Summary: Government agencies buy products and services every day. They buy every imaginable type of product and service from almost every industry. These contracts are typically open to bidders and create a major opportunity for small businesses.
This article covers how to register to become a federal contractor, how to find contract opportunities, and which programs you can use to increase your competitiveness. Lastly, we discuss three ways to finance your government purchase orders. We cover the following:
1. Should you become a government contractor?
Becoming a government contractor can be very profitable if done correctly. This creates a significant opportunity for small business owners. However, getting started as a contractor and managing the process can be complicated.
Plan to invest a substantial amount of time to become familiar with the system and get set up as a government vendor. That is just the beginning of the process. You will also spend a lot of time looking for opportunities, reviewing them, creating proposals, and managing bids.
You must also consider that government orders are very competitive. Orders may have bids from vendors willing to charge a lower price than yours. Obviously, this will affect your profit margins. The system is competitive by design and helps the government buy products and services at competitive costs. Consequently, you must balance opportunities against costs.
a) Larger orders and repeat business
Smart government suppliers can learn to take advantage of the system to generate repeat business. Furthermore, some government orders are large. Government contracting can be a great way to grow your business.
A critical advantage of government contracting is that the US government buys goods and services every month of the year. They remain a large buyer of goods and services even during recessions. Consequently, by adding government contracts to your business model, your  company may be better positioned to weather a recession.
b) Options to help small businesses
The federal government has set up programs to help small businesses. These special designations are an important benefit and help you compete against larger vendors more equally. We cover these in more detail in a later section.
c) Contracts may have low profit margins
The government procurement process is set up to be competitive. Its main objective is to acquire the highest quality goods and services at the lowest price. Consequently, purchase orders for widely available products and services often have low margins.
Companies that offer unique services or products have an advantage in this case. They will have less or no competition, and their orders will \ have higher margins.
d) It's time-consuming
The process of finding, bidding, managing, and fulfilling government purchase orders requires a dedicated effort. Don't underestimate how \ much time your team will have to invest in this process. Furthermore, there is no guarantee of success.
2. How to find and get federal contracts
Finding government contracts is a fairly simple process. However, examining the solicitations and submitting bids can be complex and time consuming. Consider working with a consultant during your first few bids until you become familiar with the process.
a) Register as a contractor
Registering in the System for Award Management (SAM) is your first step to becoming a federal contractor. The process begins when you register to get a Unique Entity Id. For this, you need to submit:
Legal Business Name Physical Address
Date of Incorporation
State of Incorporation
National Provider Identifier (NPI) (Non-U.S. entities only)
The next step is to submit some core data about your company. This includes:
Organization start date
Date on which your company's fiscal year ends
Organization's division name and number (optional)
Organization's website URL (optional)
Marketing Partner Identification Number (MPIN)
Physical address
Mailing address
Identification Number (TIN) (U.S. entities only)
After this is completed, you will have to submit additional information about your company, be assigned a CAGE code, and go through some questionnaires. Here is a checklist with detailed information.
3. How to find federal purchase orders
All opportunities are listed in SAM, which has a convenient search function. The search system is intuitive and easy to use. This process is best explained through examples. Here are two examples of bid opportunity searches we recently conducted.
In the first example, we decided to search for janitorial opportunities across all federal agencies. This is an extensive search, but it gives you an idea of the extent of your opportunities. On the left, under 'Select Domain,' choose 'Contract Opportunities.' Move on to the 'Filter By' section and go to the 'Keyword Search' option. Enter 'janitorial' as the search term.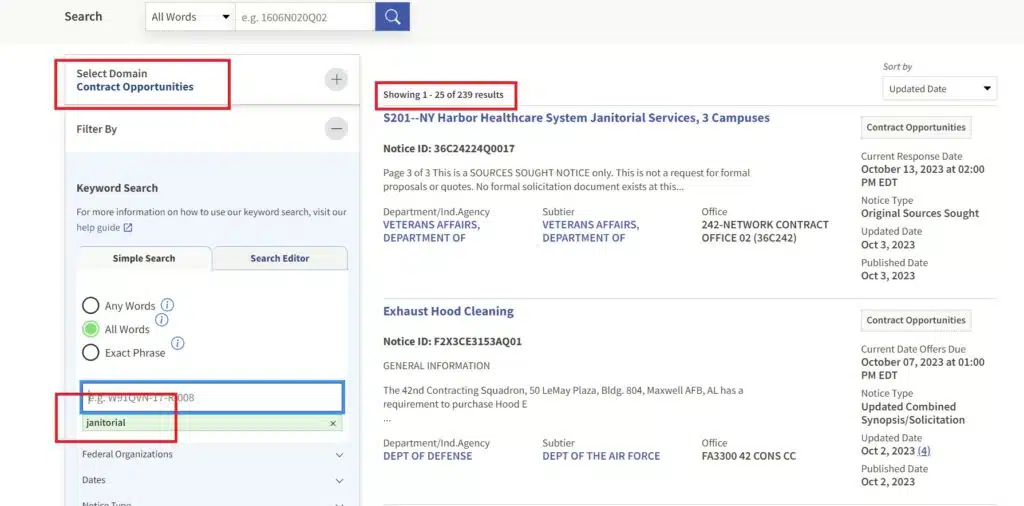 This image shows the results of the search. The search parameters are highlighted in red. As you can see, there are 239 opportunities available.
Let's now try a more specific search example. Assume a prison suppliers and equipment company is looking for new opportunities. Prisons  consume large amounts of food; this company wants to bid on opportunities to sell milk. Go to the "Filter By" and enter "milk" under 'Keyword Search." Next, go to "Federal Organizations" and look for "1540 – Federal Prison System – Bureau of Prisons".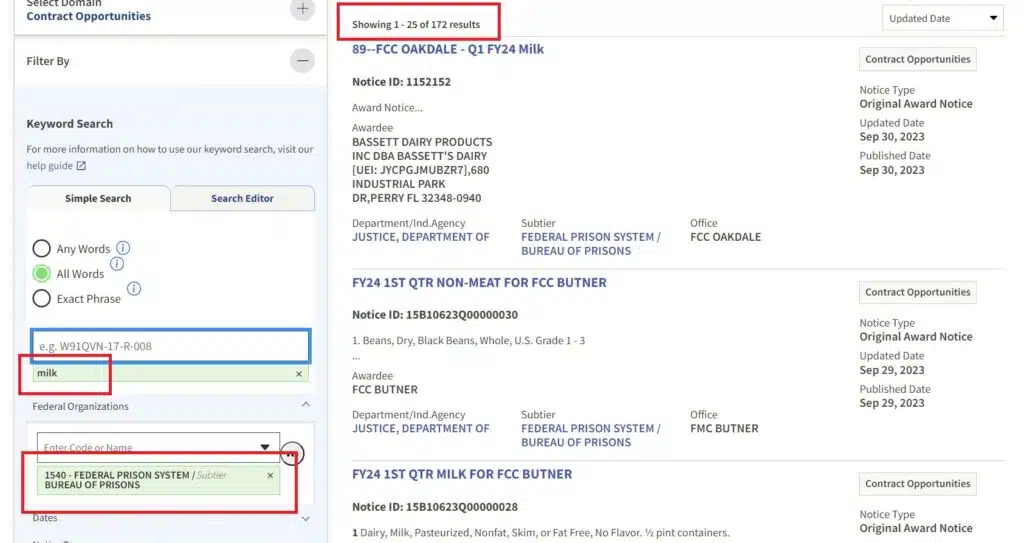 This image shows the search result. There are 172 opportunities that contain the term 'milk' in them. Some of these opportunities include other food products as well.
You can refine the searches by many criteria, including:
Location
Set-asides
Dates
a) Review opportunities
Many opportunities have very extensive solicitation documents. These documents specify all the available information and requirements about the opportunity. Your team should review these documents carefully to ensure this is a good opportunity for your company.
The process of selecting an opportunity varies by company. Do your research and only select orders you are confident you can deliver in the required quality, quantity, and time frames.
b) Decide if you will submit a bid
Once you have selected the opportunities that interest you, prepare your bids. Remember that the government always looks to purchase items and services at the lowest possible price. Consequently, your offer must be competitive.
Your company must also price products and services to make the transaction profitable and worth it. Determining the correct pricing can be difficult initially, but you will improve as you gain experience.
c) Submit a bid
If you decide to submit a bid, follow the instructions in the solicitation package. Be very careful when submitting a bid. Submit a bid only if you are willing and able to fulfill it completely.
Determine all the pricing, financial, and logistical details before submitting the bid. You do not want to be unable to fulfill a bid you have won. This scenario would harm your reputation and could have legal implications.
d) Get educated
The government procurement process is complex and can't be summarized in simple steps. To become a successful government vendor, you must know the system inside out. Consider reaching out to a Procurement Technical Assistance Center (PTAC). They offer SAM assistance, workshops, and counseling to help small businesses succeed in the federal marketplace.
4. Use special designations to your advantage
The government has several programs to help small businesses succeed in the federal marketplace. These special designation programs are essential when competing against much larger vendors. Review these designations carefully to determine if you qualify. Contracting assistance programs include:
5. Get your financing in place
One of the advantages of competing for government contracts is that they can be substantial. They can allow your small business to grow significantly. However, some contracts can also strain your finances or exceed your capitalization. In this section, we discuss three ways to finance your government contracts.
a) Improve cash flow
Most government invoices are paid on net terms. Depending on your contract, you may have to wait 15 to 45 days to get paid. This situation can create cash flow problems for companies that don't have an adequate cash reserve.
The simplest way to solve this problem is to use invoice factoring. It allows you to finance your government invoices and provides funds to operate the business. This solution is available to small companies and can be deployed quickly. Read "How does invoice factoring work?" to learn more.
b) Finance purchase orders
Companies that re-sell finished goods should consider purchase order financing. This solution helps cover the supplier costs, enabling you to fulfill the order and book the revenue.
Most po financing companies pay suppliers using a letter of credit, though this varies by transaction. Transactions settle once the government pays the invoice on their usual terms. Read "How does purchase order financing work?" to learn more.
The qualification requirements for this product include:
Minimum order of $100,000
Minimum gross margin of 30%
Must re-sell goods
Must not manufacture or assemble product
Order must not include services
c) Finance manufacturing orders
Companies that manufacture goods and need funds to fulfill a government order should consider supplier financing. This solution enables you to buy the raw materials you need to manufacture your products and fulfill the order. Read "What is supplier financing?" to learn more.
Some of the qualification requirements include:
Minimum three years of operation
Company must be profitable
Must provide accurate financial statements
Company must be credit-insurable
Minimum of $2,000,000 yearly revenues
6. What about state and local contracts?
This article has given you an overview of the potential benefits of becoming a federal government contractor. However, there are other types of government contracts you should explore.
State, county, and city government agencies also buy products and services year-round. They can provide your company with a great opportunity to do business with local government agencies.
The system can also be complex as you may have to work with multiple procurement systems. For example, state-level agencies post their opportunities through the state's procurement system. However, county agencies post their opportunities through the county's procurement system.
Likewise, city agencies will use the city's procurement system. In most cases, these systems are different and have their specific qualification  requirements. The available opportunities and complexity of the process can easily overwhelm a small business.
We suggest you start with a small, concentrated effort. Focus on one procurement area that offers the most opportunity. Work from there and expand your reach as you gain experience in the marketplace.
Do you need financing?
We are a leading provider of factoring, asset based lending, and purchase order financing to government contractors. For a quote, fill out this form or call us toll-free at (877) 300 3258.